February 1, 2017
No Comments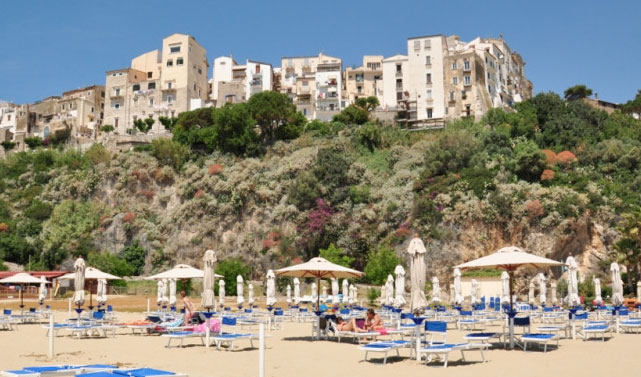 Things to do in Sperlonga Italy
As a summer destination, Sperlonga beach couldn't be more perfect. One of the many beaches near Rome to choose from, it has long been a favorite. Just look up the best beaches near Rome on Google. Any article you come across will surely give Sperlonga Beach a mention. How could they not? Beyond the sparkling-clean waters and white-washed village dominating the bay – there are also plenty of things to do in Sperlonga, Italy.  We're going to list our favorites here!
Our Top 5 Things to do in Sperlonga Italy
1. Take a Boat Excursion
If you've only seen Sperlonga from the beach, you have only seen half of Sperlonga! Sperlonga as seen by the sea is truly spectacular. Therefore, it makes number one of our top things to do in Sperlonga Italy. Only from the unique viewpoint of a boat can you admire Sperlonga's dramatic coastline. Spot crumbling ancient ruins and cliffs linked by wide stretches of golden sand, disappearing into coves and grottoes. If the sea is cooperating, you'll be able to explore!
On our Sperlonga Beach Day Trip from Rome offers the possibility to add on a boat excursion with our partner. Boat tours include swim stops and drinks on board.
2. Visit the Villa and Grotto of Tiberius
Awesome crumbling ruins located in a great cave half-submerged in the sea? If that sounds kind of cool, that's because it is! The 'Grotta di Tiberio' can easily be reached on a scenic walk along the beach just beneath Sperlonga village. There is even a small, but well organized Museum called the Archeological Museum of Sperlonga [Entrance Free: €5]. Fan's of Homer's epic poem, 'the Odyssey' will appreciate the history here – a series of statues in homage to the deeds of Ulysses was found here and is now housed in the archeological museum. The cave was once part of the villa home of the Roman emperor Tiberius, who nearly met his demise when the roof of the grotto collapsed in 26AD.
3. Have a fresh fish Lunch
With Sperlonga's position right next to the sea, it would be a shame to not try some fresh local seafood while enjoying the spectacular scenery. We especially love "il Porticciolo" restaurant, which overlooks the tiny port. We also recommend Ristorante il Corallo, which boasts the best view in town, located high above the beach in Sperlonga village. The walk up is well worth it. Just ask the waiter/waitress about what is fresh and local that day and they will be happy to help!
4. Take a walk in Sperlonga Village
Sperlonga didn't make the official list of 'Most Beautiful Villages in Italy' for nothing. Located just halfway between Rome and Naples, Sperlonga is an unspoiled seaside town distinguished by narrow white-washed alleyways and arches winding down to the sea. The town is small enough to cover by foot in a short period of time and boats superb views of the coast below from its terraces. Have a gelato, book lunch or just wander.
5. Rent an umbrella & beach chair and just RELAX.
There are plenty of privately owned beach properties located along the beaches around Sperlonga with full services such as showers, bathrooms, restaurant service and even entertainment. Come to Sperlonga and set up shop at one of the many 'stabilimenti balneari' for the day and take advantage of all they have to offer. This is one of the simplest and most obvious but also most enjoyable thing to do in Sperlonga Italy.
On our Sperlonga Beach Day Trip from Rome we take care of the umbrella and chair rental for you at our choice beach property, located in a convenient position giving you easy access by foot to all of these unique things to do in Sperlonga Italy!