September 24, 2018
No Comments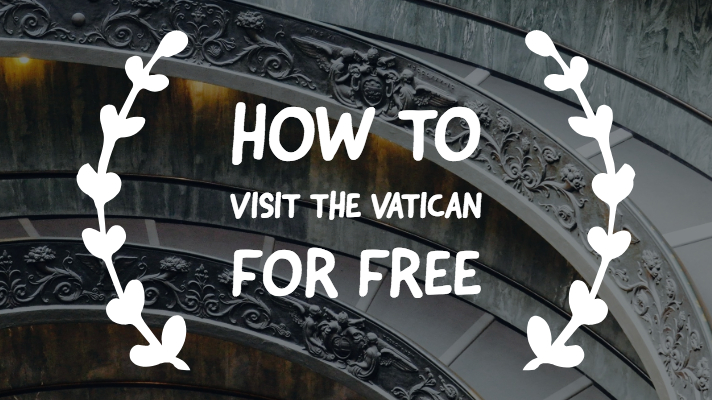 How to Visit the Vatican for Free
Vatican sights – what is FREE and what is charged for?
The Vatican City, the Vatican Museums & Sistine Chapel and St. Peter's Basilica are the major star attractions for first time visitors. We don't want to miss out on them and they are certainly worth the cost. However, did you know that these must-sees are sometimes accessible for free?
Visiting St Peter's Basilica, the Vatican Museums and the Sistine Chapel
Saint Peter's Basilica, like any church in Rome, is accessible for free! The only charge is for those who would like to climb up to the top of its dome. Even the Vatican Museums and the Sistine Chapel are accessible for free. That is, if you visit on the last Sunday of the month or on World Tourism Day.
Free entrance to the Vatican Museums
Visit the Vatican Museums for free on the any last Sunday of the month. That is, except on Easter Sunday, St. Peter and Paul on June 29th, with Christmas Day on December 25th, and St. Stephen's Feast on December 26th. The soon coming World Tourism Day on September 27th features free entrance to the Museums too.
No need to make reservations in advance. Just show up and hop in the queue forming outside the Vatican Museums entrance to take advantage of the free entry.
Check the following link for more information: http://www.museivaticani.va/content/museivaticani/en/info/tutti-gli-orari.html#lnav_shop.
Watch for the Contra!
During free-of-cost openings, access Vatican Museums from 09 am to 02 pm, with final entry at 12.30 pm. The crowds in the Vatican museums can be a problem at any time, but even worse on a free day, given the number of visitors and the more limited opening time. The fairly narrow corridor rooms will be very difficult to negotiate with so many people, the line outside will be even longer than usual and waiting to enter the building may be intolerably long if not impossible at all. Consider that you may not be able to enter the building if you join the line later than 10:30 am. The gist of it is: just try and arrive there as early as you can!
Vatican Skip-the-Line tickets with EcoArt
Just like turning up in front of the Museums entrance on the day is all but a good idea, so is also counting on buying skip-the-line tickets last minute. To guarantee availability they should be bought at times weeks beforehand. Last minute tickets can be bought through companies that are able to sell them. EcoArt is one of them, it can provide with skip-the-line tickets for the Vatican Museums and Sistine Chapel for a very good price, here the link to the website: https://www.ecoarttravel.com/en/things-to-do-in-rome/vatican-tickets.
Vatican Group Tours with EcoArt
If you are really interested in apprehending and appreciating the history behind what you will be seeing do get a good tour or, if you can afford it, even a private one. Vatican guides are always licensed, they have years of experience behind their back and do know their job.
Given that tours in the Vatican environments can only be guided by licensed professionals, companies that offer tours always have to turn to such guides. EcoArt is one of those companies. It offers standard and even unusual tour options for interesting prices. Here the link to check its products: https://www.ecoarttravel.com/en/vatican-tours.