March 20, 2020
No Comments
Piazza navona is baroque perfection
The history
Piazza Navona is pure baroque perfection.
It is certainly among the most famous Piazzas in Rome and one of the most famous in the world.
Pope Innocent X Phampilij decided to build a huge square on the site of the former Stadium of Domitian. The Stadium was built in 79 AD and was the main venue for foot-races in Rome.
In the 15th century the oval square served as a public market, until Innocent X decided to transform it in one of the finest examples of baroque architecture , in the second half of 17th century.
Baroque Time
Bernini built the Fountain of the Four Rivers right in the middle of the square. The fountain portrays the four main rivers of the known world, one for each continent.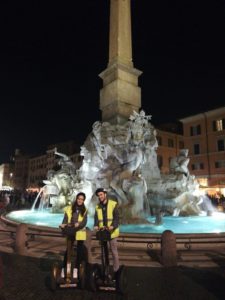 The Gange for Asia, Nile for Africa, Rio de la Plata for the Americas and finally the Danube to represent Europe.
The baroque master Bernini realized this masterpiece in less than 3 years between 1648 ad 1651. The four statues are slightly larger than man-sized statues, each one of them carved out of a single travertine block.
The monumental church of San'tAgnese in Agone stands out massive and gorgeous in front of the fountain . Designed by Giacomo Rainaldi, Bernini's fiercest artistic rival finished the work : the archictect Francesco Borromini.
The artist previously hoped to get the pope's commision to realize the fountain instead of Bernini, then took his personal revenge with Sant'Agnese. He intended to outclass the rival's work with his imposant and decoration-charged church.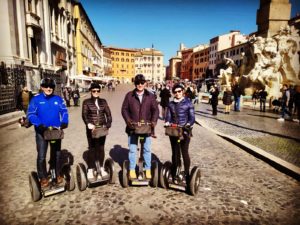 The Piazza today
Piazza Navona is just baroque perfection, with other two fountains on each side to complete the simmetry.
Today, underneath the Piazza, part of the archeological site of the Stadium is still accessible and open to the public.
Every year, on the 8th of December the Piazza becomes a small Christmas Wonderland. Local vendors offer sweets and artisanal crafts. Music, games and holiday spirit make for a perfect visit culminating with the Befana on 6th of January.
The many beautiful buildings surrounding the piazza and italian restaurants do the rest, gifing Piazza Navona a beautiful, harmonic atmosphere . Piazza Navona brings us back to times in which life was much simpler and one could find joy in the purity of arts and music.