The nerd's guide to discovering Italy through video games
Are video games any useful to discover history? Or are they just what keeps your kid busy after school?  The short answer is yes, discovering antiquity through video games is not only possible, but also amazing.
As Dunstan Lowe wrote in his article about antiquity in video games in 2009, 'In the 21st century, antiquity is read, heard, watched and performed. Nowadays it is more and more played. Especially in his article called "Classics for all: Reworking antiquity in mass cultural media" he eplained that video games, thanks to their interactivity , are a capital support to the explanation of Antiquity to the public.
A lot of popular video games take place during classical Times, having a real impact on the perception of millions of players around the world.
Since the 90's, this support has spread and ancre itself as one of the most common interface of  pop culture and the actual world. It is also one of the rare interface that is also interactive.
You can see the Colosseum and the Roman army in "Age of Empire", build a civilisation as Ceasar or Pompey in "Civilization" for example.
More and more, video games creators try to be as accurate as  possible when it comes to history . Subsequently, they add the possibility for the game to be a pedagogical tool for kids.
The games happening during Classical Times are a lot : titles such as Assassin's Creed, Kid Icarus, Apotheon… Most of those games are strategic games where antiquity is recreated and historical reality is put in the foreground. The gamer embodies an ancient character (fictitious or historical) or is at the head of entire civilisations.
Conversely,the action of  adventure games happens either during antiquity (Assassin's creed) or is reminiscent of it (Tomb raider)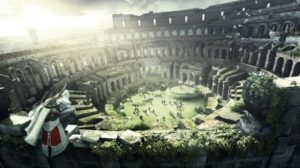 ASSASSIN'S CREED : EZIO TRILOGY
Ubisoft dedicated three whole games to Italian Renaissance.
Assassin's Creed II, set in Florence, opens the trilogy. The main character, Ezio Auditore, coming from a well-off florentine family, seeks vengeance in his home city. In his journey, he meets Leonardo Da Vinci and the Borgia Family among the other historical figures. The second edition (AC Discovery) takes place in Venice. The third, in Rome. In AC Brotherhood of the ancient Roman Monuments are visible in the game, Colosseum, Pantheon, Forum and more.
Video Games are a wonderful oppurtunity to interact with historical characters. You can travel to distant places in the comfort of your couch.
A perfect match for young people, learning about history while having fun!