August 14, 2017
No Comments
My favourite places to visit in Rome
First time I came, I immediately fell in love with this city. My first thought? "This is the place where I want to live".
My name is Elena and I am from a little town called Alessandria, in the north of Italy. It's been 2 years since my arrival in Rome; as you can imagine, my lifestyle and habits were totally different from those I found here!
Now I can almost consider myself a true Roman girl (but still my northern accent hasn't changed!). Often my friends in Alessandria ask me: which are your favourite places to visit in Rome? Well, I recommend you to take a note… 😉
Here, there are my favourite places to visit in Rome!
LUNGO TEVERE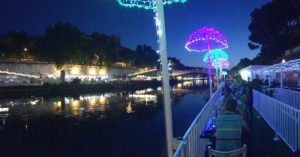 The best area to have a walk during summer is Lungo Tevere, because there are many stands and it's full of people. There, you can eat and relax sitting in front of the Tiber, or buy some souvenirs.
During the rest of the year (if you are too a shopping addicted like me) you definitely have to go in Via del Corso and Spanish Steps. Admire the narrow cobbled streets near the centre, full of ''trattorie'' and little typical bars where you can have an aperitif or a good ''gelato''.
Don't worry if you eat too much: you will walk a lot in Rome! 😉
VILLA BORGHESE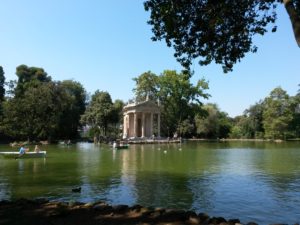 Next, I suggest a visit to  Villa Borghese. It's a big park in the heart of Rome, 5 minutes far from Piazza del Popolo.
Are you tired of the hard shopping you just had in Via del Corso? Go there and relax! In Villa Borghese there are not only museums, but also a very nice small lake where you can go on a boat surrounded by swans.
If you prefer you can also have a romantic "promenade" in its typical Italian gardens, based on symmetry.
GIANICOLO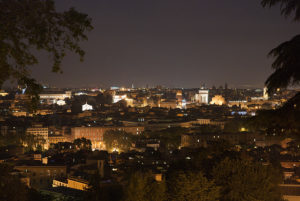 If photography is your passion, your perfect spot is the Gianicolo. It is one of the many hills of Rome and from there you can admire the city in its entire splendor, with his domes, churches, bells tower. The view is really stunning. If you are planning a date like a real Italian lover, take your girlfriend there: you will definitely conquer her heart, at night (when the city is full illuminated) or at sunrise (when the city is still sleeping).
TRASTEVERE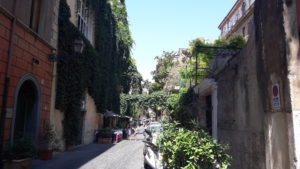 What you must do after is: going to Trastevere!  Situated on the west bank of the Tiber, Trastevere is an old district of the city, where you can live the real nightlife. Full of typical Italian restaurants, pubs, little clubs, there you can meet people from all over the world. It is my favourite place to drink something after dinner, everybody loves Trastevere, locals, students and foreign people.
VIA APPIA ANTICA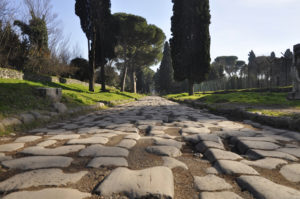 Last but not least, I suggest to visit Via Appia Antica. Also if less known, it is a beautiful part of the south of Rome. It is one of the most ancient and strategic roads of the city. It connects Rome to the south of Italy, till Brindisi city and it starts from the Roman Forum. Via Appia is the perfect place to admire the ancient Rome, out of traffic. The Via Appia is the perfect place to admire the ancient Rome, out of traffic, by bike or also by segway. You can still find the ruins along the way, and there are lots of sites very interesting to visit, like the Mausoleum of Cecilia Metella, the Catacombs of St. Callisto, the Basilic and Catamcombs of St. Sebastian and the for the rest…go and find it. 😉 Segway Tour in Via Appia Antica.
Walking around Rome is amazing, you can perceive its magical atmosphere. I like to imagine that where I am, in the past, there were VIPs of Roman history, like gladiators and Emperors.
Now that you know my favourite places to visit in Rome, it's your turn!
One last advice: LET'S GET LOST!