March 29, 2017
One Comments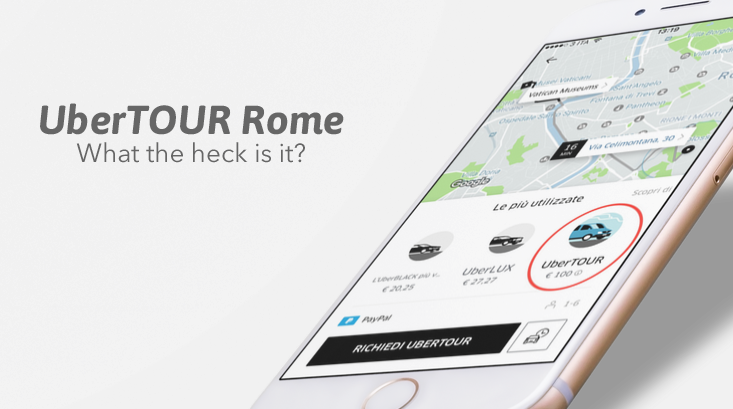 Uber Tour in Rome
What's Uber?
Before we talk about Uber TOUR in Rome, first we must talk about Uber. If you haven't heard of UBER by now, you've probably been living under a rock. The company has been all over the headlines, both positive & negative – with articles ranging in topic from tests with self-driving cars to the war with taxi drivers (of which Rome is a current stage) to the benefits of the shared economy and how it is changing the world. In short, Uber is a ride-hailing app – but the long of it is that Uber services greatly vary from country to country – and include everything from point-to-point rides, to delivery services, to self-driving car pickups to… tours. Yes, tours.
Uber TOUR in Rome
If you use the ride-hailing app regularly you might have (barely) noticed the option to book something called Uber TOUR in Rome (as well as other cities, like Milan).  But there is stunningly little information on just what that UBERTour consists of exactly. This is how it looks: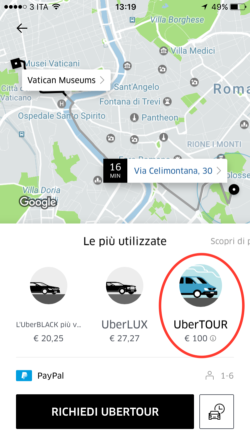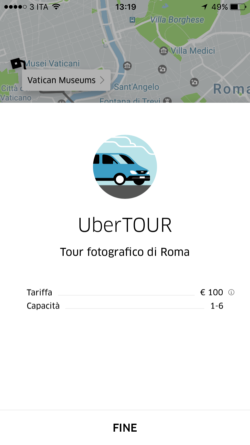 Basically the only information we can deduce from the app is that:
The capacity is 1-6 people
It costs 100 euros
It consists of a "photographic tour"
No information on duration, what exactly you'll see etc. There is no info in the app, and certainly no helpful info on the Uber website. We can only imagine that, back in 2015 when the Rome service was launched there was more information available – and we say that because we managed to find this outdated article with some details that appear to be no longer relevant:
http://www.romeing.it/rome-ubertour-sightseeing/
So, now what. Any alternatives?
That all said, you don't need to book through Uber to get this kind of service with an Uber-style black car. You can just book it direct, for the same price. In fact, EcoArt's private Mercedes van is on Uber – but we also accept direct bookings when we are not live on Uber in Rome. Here are the similar services we offer:
Rome Airport Transfer + Welcome Tour
A brief 1.5 hour sightseeing drive through the city of Rome that takes place together with your airport pick up at Fiumicino or Ciampino. It's a great way to make good use of your time if you have an early flight arrival and late check-in. Capacity: 1-7 people
Rome Private Car Service
4, 6, and 8 hour options with a driver at your disposition. You driver will take you wherever you want to go, you make the itinerary up in advance or as you go. It's the most flexible day to tour the city. Capacity: 1-7 people
In the meantime, if Uber finally posts some official details about their UberTOUR option… we'll let you know!