February 6, 2017
No Comments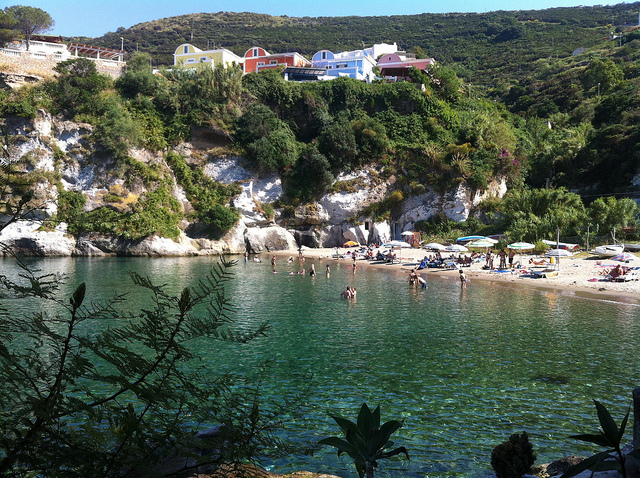 Best Beaches Near Rome
Visitors to Rome, Italy often ask – what are the best beaches near Rome?
While it's true that the city of Rome isn't very far from the Mediterranean coast (and therefore beaches) — often those beaches leave travelers disappointed. The closest beaches to Rome are Fregene, Ostia and Fiumicino. Like most "city" beaches near major commercial ports they don't boast gorgeous crystal-clear-blue waters and clean sands.
So while you might be dreaming of this:
What you end up getting is…well… this:
Now for some good news! Visitors to Rome can, in fact, visit beautiful beaches. Clean waters and golden sands are within a day trip's reach from Rome. Here is our selection of the top 3 beaches near Rome!

1. Sperlonga Beach
Sperlonga is two hours away from Rome by car (here are some convenient Google Map directions to Sperlonga) and well worth a visit! This year Sperlonga beach has yet again been honored with a "Blue Flag" – a prestigious international recognition awarded to the very best beaches in 48 countries that meet strict criteria for water quality, eco-friendly-ness and safety. You can read the official requirements here. Beyond its sparkling, shallow shores — Sperlonga Beach is also our favorite for it's unique atmosphere. Nestled at the foot of one of Italy's most beautiful coastal villages (for which it is also officially recognised) – Sperlonga offers travelers plenty to do besides sunbathe! You can visit Sperlonga's historic center or even take an exhilarating boat excursion with swim stops along Sperlonga's scenic coastline. The shore is peppered with blue grottoes and crumbling ancient Roman ruins.
Our Sperlona Beach Day Trip from Rome offers an easy way to spend a day at this lovely beach and will have you back in Rome by the end of the day. Our day trip keeps you from having to deal with complicated train schedules and car rentals.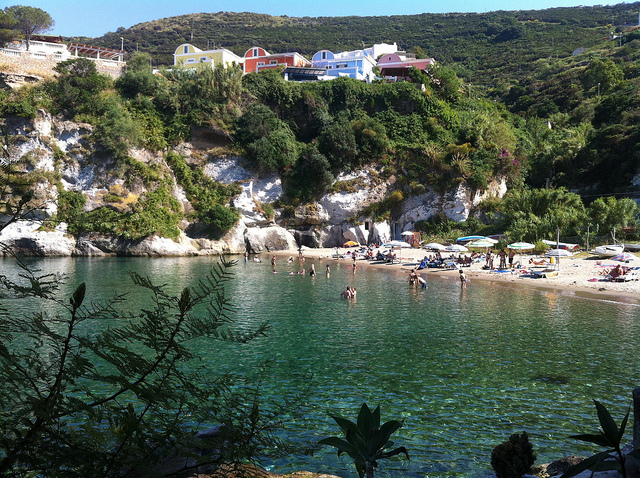 2. Ponza Island Beaches
We'll be straight with you. If you have the good fortune to visit Ponza Island during your Italy vacation – we recommend skipping its incredible beaches. Then why does it make the list of best beaches near Rome, you ask? Well – it definitely boasts some breathtakingly beautiful beaches (try this flickr search: Chiaia di Luna) – we're not challenging that. These aren't sandy beaches, however – so those looking for powdery white sand should look elsewhere! Italy has a volcanic geology, after all – and Ponza – like most of the Italian islands has rocky shores. On the upside these rocky reefs create some incredible coves, grottoes and natural swimming pools. They are perfect for all of the same things that are great about going to a regular beach!
Getting to Ponza in One Day from Rome isn't a breeze if you want to pull it off on your own. But it's worth it! The nearest port of call for fast boats and ferries departing to Ponza Island is Anzio (Google map driving instructions here)- which is just an hour south of Rome. Both Vetor and Laziomar make daily departures for Ponza from Anzio Port early in the morning and in the late afternoon – but only in the summer.
Train times from Rome don't normally line up well with ferry departures to Ponza from Anzio, which is why we have created an all-inclusive day trip from Rome to Ponza Island. While the day trip doesn't forsee any beach stops – if you'd prefer to spend a day on Ponza's beaches rather than exploring by boat just write to us and let us know! We'd be more than happy to accomodate you.
3. Circeo Beaches
We can't sum up the wonders of Circeo National Park's beaches better than this travel article by the Guardian – but we'll try. If you are brave enough to taken on a car rental or the Italian train/public transportation system – then you should not miss the beaches and nature preserve of Circeo. Nestled around a limestone promontory whose beauty, flora and fauna are fiercely protected by strict zoning laws – Circeo is unspoiled today all thanks to an unlikely suspect: Benito Mussolini.
It's a little wild and rough around the edges in this little corner of paradise but worth arming yourself with a few words of Italian and braving the unknown is worth it – you are only an hour and a half away from Rome, after all! For something a little more accessible check out Sabaudia Beach (cue gorgeous Flickr photos here).
EcoArt Travel doesn't run any day trips to Circeo – but we kind of wish we did!
We hope you have enjoyed our picks for the very best beaches near Rome. If you have any questions about these beaches or any of our recommended day trips – just leave a comment!