February 8, 2017
No Comments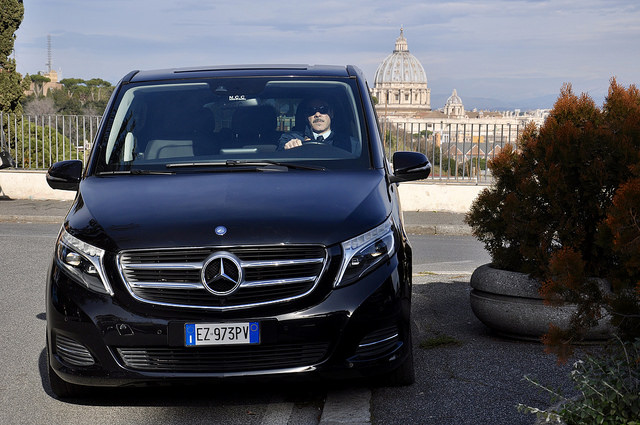 Choosing a Private Driver in Rome
The ultimate choice for comfort, luxury and flexibility? Your own private driver in Rome. Great news: you don't need to be a millionaire to afford one! Hiring a private chauffeur to whisk you around the city of Rome in a luxury van, car or limousine is especially convenient for families or groups of friends who can split the fare. You'll more than make up for any extra cost with the time, energy and stress you'll save. No need to figure out complicated and often unreliable local transportation schedules. We highly recommend this option if you have limited time in Rome, and don't want to waste precious vacation time. If you only have 3 days in Rome or less, consider the following Rome private driver services:
Rome Airport Transfers
Arriving in an airport in a new city is an emotional moment. Especially when you are arriving from a long flight overseas, or when your destination country speaks a language you don't understand. When you arrive at Fiumicino Airport or Ciampino Airport in Rome, consider hiring a private Rome airport transfer. Your driver will be waiting for you with a big smile and a sign with your name on it. Need to kill some time before your Rome hotel check in? Try our Rome Airport Transfer and Welcome Tour Option. Your private driver will pick you up and, on the way to your drop off destination, will drive by Rome's top sights. It's a great way to kick off your vacation in Rome. Our luxury Mercedes van offers both services at a fixed price for up to 7 people. Best of all, the service is private – not shared.
A Private Driver in Rome
Once you've made it to Rome, there's the challenge of getting around! Rome's public transportation system is notoriously complicated, slow and unreliable. Our metro system is almost non-existent. Case in point, simplified metro maps of major European cities compared to Rome:
So what to do when you have a short time in the Eternal city and don't feel like figuring it all out? Hire a private chauffeur of course. With this particular service you can make your itinerary up as you go along, with options for 4, 6 or 8 hours. Simply choose how long you would like your private driver at your disposition.
Day Trip to Tivoli with Private Driver
A private car service is a great option for any day trip outside the city of Rome. Tivoli is an excellent option. Tivoli is especially convenient for a private driver service as its two major sights are located too far from the main town and train station to reach by foot. We're talking, of course, about the fabulous Villa d'Este and Hadrian's Villa. Our Tivoli service will pick you up from your Rome-based hotel – will drive you around the sights at your leisure. When you're done, you'll be brought back to Rome. Simple!
What else can you do with a private driver in Rome? The possibilities are endless. Just use your imagination or check out our full list of transfers in Rome.